That Was Then, This Is Now: 90 Years of WeHaKee! Waterfront Worries
First of all, our thoughts and prayers go out to everyone who has been impacted by megastorm Sandy that pummelled not only the east coast of the country, but reaching well inland with its torment. Remarkably, the winds from Sandy came as far west as Lake Michigan creating waves of over 20 feet resulting in flooding and shoreline erosion in Wisconsin, Michigan, Illinois and Indiana this week.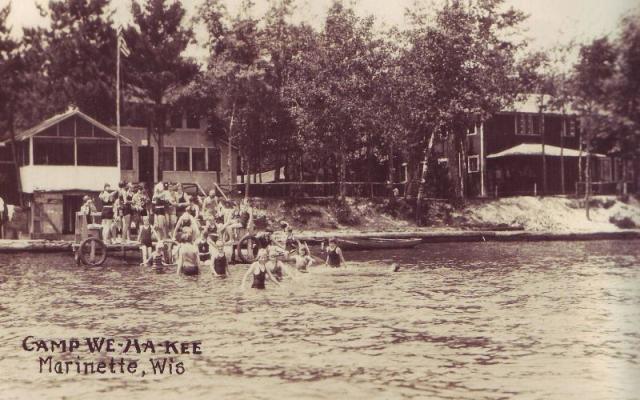 This major weather event brought to mind Camp WeHaKee's original site along the Lake Michigan shoreline on the western edge of the Green Bay (between the 'thumb' and the mainland in northeast Wisconsin). Sr. David O'Leary founded the camp at this site just south of the Wisconsin/Michigan border in the city of Marinette. The camp grew and thrived at this location for over 40 years. Located on the shore of Lake Michigan is quite beautiful and no doubt provided some amazing sunrises! But as one of the Great Lakes, Lake Michigan can be cruel and moody – meaning it changes quickly and often without warning. This is a very dangerous combination, particularly for a camp!
Fortunately, Camp WeHaKee never experienced a tragedy at the hands of this powerful lake. Sr. Marie Karen Hawkinson (who would later become the director of WeHaKee) was the camp waterfront director for a time in Marinette. Being aware of the changing nature of the lake and the fact that it remained shallow for nearly a mile from shore, she pondered the dangers that the Lake Michigan waterfront posed to the WeHaKee campers. When she was named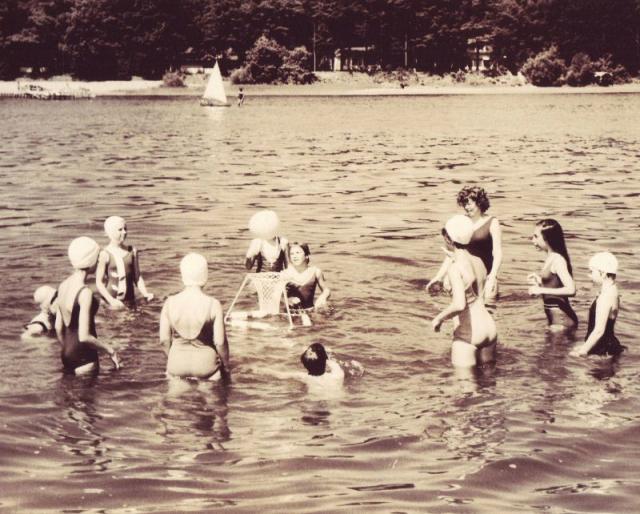 camp director in the early 1960's she made it her mission to find a safer and more suitable location for Camp WeHaKee. She eventually secured our current site from the St. Louis Hawks professional basketball team in 1963.
As many of you know, our current site has a wonderful waterfront that not only provides a safe swimming area on Hunter Lake, but also has ample space for sailing, canoeing, kayaking, waterskiing, wake boarding, windsurfing and paddle boarding. As a small lake, it is easy to reach boaters & others who may be struggling in their return to shore and it is quite quiet in terms of other boaters. We are most grateful for the efforts of Marie Karen in providing a location that is both safe and beautiful.
Thanks for reading and have a safe and happy Halloween!