That Was Then, This Is Now: 90 Years of WeHaKee! Water Skiing, Wake Boarding & Tubing!
With Hunter Lake currently frozen over at WeHaKee Camp for Girls, it seems like a good time to 'Think Summer' and take a 'then-and-now' look at one of our most popular waterfront activities!   Enjoy!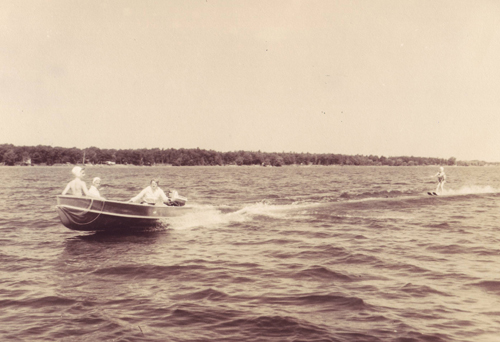 Waterskiing has been a highly popular activity at WeHaKee for decades.   Many girls got up on a pair of skis for the very first time during their summer at WeHaKee.   In this 1958 photo to the left, we have a camper negotiating the chop on the waters of Green Bay.   Check out the bathing caps!   And notice the lack of life jackets or other PFD's.   Safety was approached quite differently back then!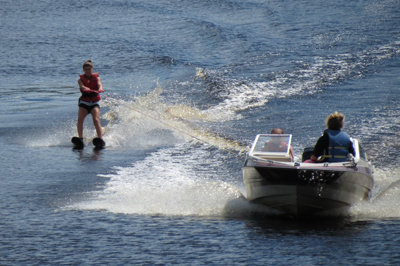 Here on the right is a shot from this past summer with a WeHaKee camper enjoying the smooth waters of Hunter Lake!   In addition to water skiing, girls also enjoy wake boarding and thrill riding the water tube!   Then or Now, these water power sports continue to be popular and extremely fun activities at WeHaKee.   It's always exciting to hear the screams of support when a girl gets up on skis for her very first time!   And these have allowed girls of all ages to challenges themselves and taste success gliding across the waters of WeHaKee.   And everyone has a PFD!
Did you learn to waterski at WeHaKee?   Please tell us about your experience and how much fun you had!   Or tell us about other things you did for the first time at camp!
Thanks for joining us today and have a great week!