Wednesdays @ WeHaKee: The Joy of Horseback Riding at Camp!
There's something special about horseback riding that captures the imagination and draws people of all ages in. At WeHaKee Camp for Girls, we know firsthand how exhilarating and fun horseback riding can be, and we're thrilled to offer our campers the opportunity to learn and grow as riders. Horseback riding has been a staple of summer camps for decades, and for good reason. It's an activity that offers a unique combination of physical challenge, emotional connection, and mental focus. For girls who have never ridden before, horseback riding can be an eye-opening e
xperience that teaches them about themselves and their abilities.  At WeHaKee, we believe that horseback riding is a skill that can carry over into adulthood. Here's why:
1. Confidence Building:  Horseback riding requires a great deal of focus, balance, and coordination.  As girls learn to ride, they build confidence in their abilities and in their connection to the horse.  This newfound confidence can translate to other areas of their lives, helping them tackle challenges with more courage and resilience.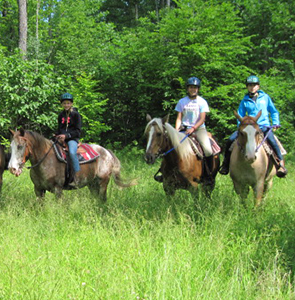 2. Relaxation and Stress Relief: Horseback riding can be a meditative and calming experience, providing a break from the stresses of everyday life. Many riders describe the feeling of being on
horseback as therapeutic and rejuvenating, helping them feel more centered and grounded.
3. Connection to Nature: Horseback riding offers an opportunity to connect with nature in a unique and intimate way. As riders explore trails and open fields on horseback, they develop a greater appreciation for the natural world and a deeper sense of connection to the environment.
4. Lifelong Learning: Horseback riding is a skill that can be honed and perfected over a lifetime.  Even experienced riders are constantly learning and growing, refining their technique and
deepening their understanding of the horse. 
At WeHaKee Camp for Girls, we offer a variety of horseback riding activities for girls of all skill levels. From beginner lessons to advanced riding clinics, our experienced instructors help campers develop their riding skills in a safe and supportive environment. Our well-trained horses are carefully selected to match each camper's skill level, personality, and riding goals.
In addition to riding lessons, we also offer a range of horse-related activities, including horse grooming, care, and stable management. Our goal is to provide campers with a comprehensive understanding of horsemanship, from the basics of riding to the intricacies of horse care.  Whether your daughter is a seasoned rider or a complete beginner, she'll have a blast at WeHaKee
Camp for Girls. Our horseback riding program is just one of many fun activities we offer for girls ages 7-17. From arts and crafts to outdoor adventure, we have something for everyone.
To learn more about our horseback riding program and all the other activities we offer, visit our website at wehakeecampforgirls.com/girls/camp-activities. We look forward to welcoming your daughter to WeHaKee Camp for Girls, where she'll create lifelong memories and friendships while learning valuable life skills.  Learn more at WeHaKeeCampforGirls.com or give us a call at 608-787-8304.  Better yet, click HERE to schedule a video conversation with our directors.  We look forward to hearing from you!