Wednesdays @ WeHaKee: Aiming for Success Through the Thrill of Archery!
At WeHaKee Camp for Girls, we understand that summer camp is about more than just traditional sports and outdoor activities – it's a chance for young girls to uncover new passions, develop their skills, and grow through unique experiences. That's why we're proud to offer an exciting archery program, allowing girls to explore the ancient art of archery in a supportive, fun, and empowering environment.
Archery has been practiced for thousands of years and has numerous physical, mental, and emotional benefits. Here's why archery is an excellent addition to the WeHaKee experience: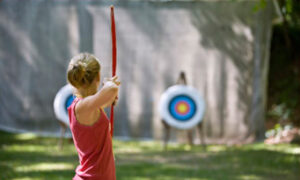 Focus and Concentration: Archery requires a high level of focus and concentration. As girls master the art of archery, they learn to control their thoughts, hone their attention, and sharpen their mental clarity – skills that can carry over into other aspects of their lives, like school and work.
Confidence and Self-Esteem: Archery is an individual sport that allows girls to measure their progress and success against their personal goals. As they improve their skills and see tangible results, their confidence and self-esteem grow, empowering them to take on new challenges both in and out of camp.
Physical Fitness: Archery may not seem like a physically demanding activity, but it actually helps to build strength, endurance, and flexibility. Drawing a bow requires control of the arms, shoulders, and back muscles, while maintaining proper form and balance engages the core and lower body.
Patience and Perseverance: Archery is a sport that rewards patience and perseverance. Girls learn that with practice, dedication, and a growth mindset, they can achieve their goals and continue to improve their skills over time.
At Camp WeHaKee, our archery program is designed for campers of all ages and skill levels. Our experienced instructors create a safe and supportive environment, guiding girls through the fundamentals of archery, including stance, grip, aiming, releasing, and safety guidelines. We provide top-quality equipment and an excellent range, ensuring that girls have everything they need to enjoy and excel in this exciting sport.
In addition to archery, we also offer a wide range of other activities, including arts and crafts, dance, theater, and music, ensuring that every girl has the opportunity to explore her interests and develop new skills. Our goal is to provide campers with a comprehensive and engaging camp experience, fostering lifelong memories and friendships.
Whether your daughter has always been fascinated by archery or is looking to try something new, she'll have a blast at WeHaKee Camp for Girls. Our archery program is just one of the many fun activities we offer for girls ages 7-17. From outdoor adventure to culinary arts, there's something for everyone.
To learn more about our archery program and all the other activities we offer, visit wehakeecampforgirls.com/girls/camp-activities. We look forward to welcoming your daughter to WeHaKee Camp for Girls, where she'll create lifelong memories and friendships while learning valuable life skills. Learn more at WeHaKeeCampforGirls.com or give us a call at 608-787-8304. Better yet, CLICK HERE to schedule a video conversation with our directors. We look forward to hearing from you!