Wednesdays @ WeHaKee: Creativity for Life & The Joy of Arts and Crafts at Camp
At WeHaKee Camp for Girls, we believe that summer camp is about more than just outdoor adventure and sports – it's an opportunity for girls to explore their creativity, develop their artistic skills, and express themselves through a variety of arts and crafts activities.
Arts and crafts have been a staple of summer camp for generations, and for good reason. They provide an outlet for creative expression, help campers develop fine motor skills, and encourage problem-solving and critical thinking. For girls who have never tried their hand at arts and crafts before, summer camp can be a transformative experience that unlocks a whole new world of creative possibilities.
At WeHaKee, we believe that arts and crafts are skills that can carry over into adulthood. Here's why:
1. Creative Expression: Artistic activities like painting, drawing, and sculpting provide a unique opportunity for self-expression. As girls create their own unique pieces of art, they learn to express themselves in new and meaningful ways, building confidence and a sense of identity that can last a lifetime.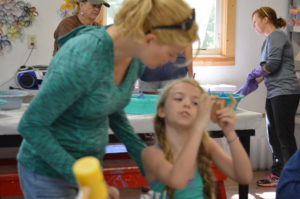 2. Fine Motor Skills: Arts and crafts activities require precision and attention to detail, helping campers develop fine motor skills that can be applied to other areas of their lives, like writing, typing, and playing instruments.
3. Problem-Solving: Arts and crafts activities often require problem-solving and critical thinking skills.  As campers work through creative challenges, they develop a growth mindset and learn to approach problems with creativity and innovation.
4. Relaxation and Stress Relief: Many arts and crafts activities, like knitting and embroidery, can be meditative and calming, providing a break from the stresses of everyday life. They can help campers feel more centered and grounded, reducing anxiety and promoting mental wellness.
At WeHaKee Camp for Girls, we offer a variety of arts and crafts activities for girls of all ages and skill levels. From painting and drawing to ceramics and jewelry-making, our experienced instructors help campers develop their artistic talents in a fun and supportive environment. Our state-of-the-art facilities and top-quality materials ensure that campers have everything they need to create beautiful, one-of-a- kind pieces of art.
In addition to arts and crafts, we also offer a wide range of other creative activities, including dance, theater, and music. Our goal is to provide campers with a comprehensive understanding of the arts, from the basics of drawing and painting to the intricacies of stagecraft and musical composition.
Whether your daughter is a budding artist or simply looking to explore her creative side, she'll have a blast at WeHaKee Camp for Girls. Our arts and crafts program is just one of many fun activities we offer for girls ages 7-17. From outdoor adventure to culinary arts, we have something for everyone.
To learn more about our arts program and all the other activities we offer, visit our website at wehakeecampforgirls.com/girls/camp-activities. We look forward to welcoming your daughter to WeHaKee Camp for Girls, where she'll create lifelong memories and friendships while learning valuable life skills.  Learn more at WeHaKeeCampforGirls.com or give us a call at 608-787-8304.  Better yet, click HERE to schedule a video conversation with our directors.  We look forward to hearing from you!