Wednesdays @ WeHaKee: Fun On The Water At Camp!
As a summer camp located in the beautiful lakes region of northwest Wisconsin, Camp WeHaKee is nestled among the tall trees and clear waters of the Northwoods.  It is a haven for adventure seekers and water enthusiasts alike. There is never a dull moment at Camp WeHaKee, especially when it comes to water activities. Let's take a closer look at all the fun one can have on the water at Camp WeHaKee.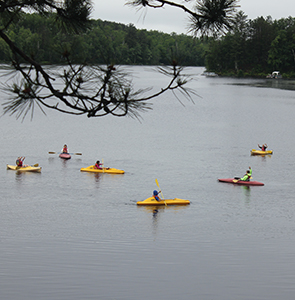 KAYAKING
Kayaking is one of the most popular activities at Camp WeHaKee. With a variety of kayaks to choose from, campers can paddle around the camp's private lake, exploring the shoreline and taking in the scenery. There are also opportunities for kayaking on nearby rivers and streams, where campers can experience the thrill of paddling through rapids and over waterfalls.
CANOEING
Canoeing is another great way to enjoy the water at Camp WeHaKee. Campers can team up with a friend or counselor and paddle together, working on their coordination and communication skills. Canoe trips are also offered on nearby waterways, giving campers the chance to explore new environments and bond with their fellow campers.
SWIMMING
Of course, no summer camp experience is complete without some good old-fashioned swimming. Camp WeHaKee has a large swimming area with a diving board and a water slide, perfect for hot summer days. Campers can cool off, play games, and work on their swimming skills under the watchful eye of certified lifeguards.
STAND-UP PADDLEBOARDING
Stand-up paddleboarding (SUP) has become increasingly popular in recent years, and Camp WeHaKee has embraced the trend. Campers can try their hand at balancing on a board and paddling around the lake, challenging themselves and having fun in the process. SUP yoga classes are also offered, giving campers the opportunity to combine their love of water with their passion for yoga.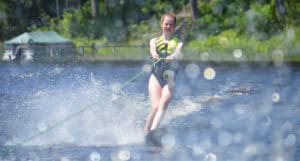 WATER SKIING, WAKEBOARDING & TUBING
For campers looking for a more exhilarating experience, water skiing, wakeboarding and tubing are great options. Camp WeHaKee has a ski boat and experienced instructors who can help campers of all skill levels learn how to carve up the wake. These activities require a bit more physical strength and coordination, but the sense of accomplishment and adrenaline rush are well worth it.
SAILING & WIND-SURFING
There is nothing quite like harnessing the wind to help you glide effortlessly across the waters of Hunter Lake.  Camp WeHaKee offers those new to sailing safe and successful opportunities to pilot a butterfly sailboat or wind-surf board.  There is nothing like feeling the wind through your hair and the mist off the lake as you cruise across the lake using the power of the breeze.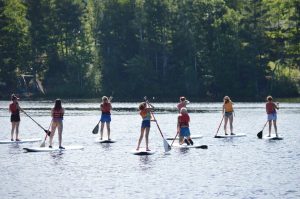 FISHING
For campers who prefer a more laid-back approach to water activities, fishing is a great option. The lake at Camp WeHaKee is stocked with fish, and campers can try their luck at catching bass, bluegill, and more. Fishing is a great way to connect with nature and enjoy some peaceful time on the water.
In conclusion, Camp WeHaKee offers a wide variety of water activities that cater to all interests and skill levels. Whether you're a seasoned kayaker or a first-time paddle-boarder, there is something for everyone to enjoy. With certified instructors and lifeguards on hand, safety is always a top priority, allowing campers to have fun and make memories that will last a lifetime.
To learn more about our all that Camp WeHaKee has to offer on the water and on the land, visit our website at WeHaKeeCampforGirls.com. We look forward to welcoming your daughter to WeHaKee Camp for Girls, where she'll create lifelong memories and friendships while learning valuable life skills.  Visit WeHaKeeCampforGirls.com or give us a call at 608-787-8304.  Better yet, click HERE to schedule a video conversation with our directors.  We look forward to hearing from you!