Wednesdays @ WeHaKee: It's Only Natural!
With the events in Ferguson, Missouri casting a broader light on the issues of violence and injustice in this country, the concept of peace seems as elusive as ever. Yet now more than ever, it is peace that we need to see through the smoke of hatred, mistrust, suspicion and misunderstanding and lead us to a fairer and more accepting world. But how can that happen?
Perhaps if we could send more people to camp we could begin to chip away at that suspicion and misunderstanding that seem to be undermining our efforts to create a better world for all. Beyond giving campers a chance to try new things and build their independence, it successfully brings people together from a wide spectrum of backgrounds helping them discover that our differences bring vitality to our relationships and helps us grow into more complete and accepting individuals. Camp truly builds peace among us!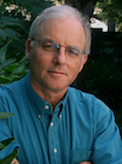 Richard Louv, Co-Founder and Chairman Emeritus of the Children & Nature Network, recently posted an enlightening article in his blog, The New Nature Movement, entitled RESTORING PEACE: Six Ways Nature in Our Lives Can Reduce the Violence in Our World. He emphasizes the restorative power of the nature experience and feels that althgough it cannot cure all that ails us, it can have a profound effect on individuals, groups and communities in bringing a sense of peace and reducing our need to engage in violent behavior.
Here are six reasons why meaningful
relationships with nature may — in concert
with other approaches — bolster mental health and civility,
and reduce human violence in our world. Richard Louv
1. Green exercise improves psychological health.
"There is growing . . . empirical evidence to show that exposure to nature brings substantial mental health benefits," according to "Green Exercise and Green Care," a report by researchers at the University of Essex. Among the benefits: improvement of psychological well-being; generation of physical health benefits by reducing blood pressure and burning calories; and the building of social networks.
2. In some cases, greening neighborhoods may help reduce domestic violence.
In a Chicago public housing development, researchers compared the lives of women living in apartment buildings with no greenery outside to those who lived in identical buildings—but with trees and greenery immediately outside. Those living near the trees exhibited fewer aggressive and violent acts against their partners. They have also shown that play areas in urban neighborhoods with more trees have fewer incidences of violence, possibly because the trees draw a higher proportion of responsible adults.
3. Natural playgrounds may decrease bullying.
In Sweden, Australia, Canada and the U.S., researchers have observed that when children played in an environment dominated by play structures rather than natural elements, they established their social hierarchy through physical competence; after an open grassy area was planted with shrubs, children engaged in more fantasy play, and their social standing became based less on physical abilities and more on language skills, creativity and inventiveness. Such play also provided greater opportunities for boys and girls to play together in egalitarian ways.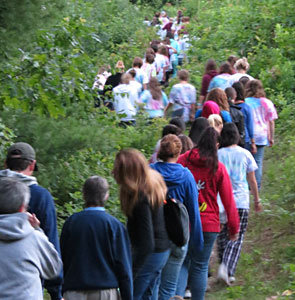 4. Other species help children develop empathy.
We've known for decades that children and the elderly are calmed when domestic pets are introduced in therapy, or included in rehabilitative or residential care. We also know that children can learn empathy by caring for pets. Some mental-health practitioners are taking the next step: using pets and natural environments as part of their therapy sessions. Cherie L. Spehar, a Licensed Clinical Social Worker and Play Therapist, who has served as executive director of The Child Abuse Prevention Center in Raleigh, N.C., recommends to therapists, "Bring nature play into your sessions, as it is a resource rich in opportunities for practicing kindness. Introduce them to every form of life and teach respect for it."
5. Greater biodiversity in cities can increase social and family bonding.
Scientists at the University of Sheffield in the U.K. report that the more species that live in a park, the greater the psychological benefits to human beings. "Our research shows that maintaining biodiversity levels is important . . . not only for conservation, but also to enhance the quality of life for city residents," said Richard Fuller of the Department of Animal and Plant Science at Sheffield.
6. More nature in our lives can offset the dangerous psychological impact of climate change.
Professor Glenn Albrecht, director of the Institute of Sustainability and Technology Policy at Murdoch University in Australia, has coined a term specific to mental health: solastalgia, which he defines as "the pain experienced when there is recognition that the place where one resides and that one loves is under immediate assault." Albrecht asks: Could people's mental health be harmed by an array of shifts, including subtle changes of climate? If he's right in suggesting this is so, and if climate change occurs at the rate that some scientists believe it will, and if human beings continue to crowd into de-natured cities, then solastalgia will, he believes, contribute to a quickening spiral of mental illness.
We wholeheartedly agree with Mr. Louv and have known for a long time that the outdoor experience is good for so much that ails us. At Camp WeHaKee we have been using God's great outdoors as a wonderful place to help add a bit more peace, truth, justice, compassion and community to our world and have been doing so for over 91 years. And we will continue to do so for as long as it takes! Peace and God's blessings to all.