Wednesdays @ WeHaKee: Why Choose WeHaKee?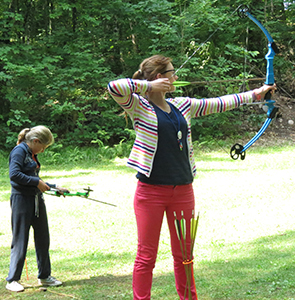 Why do parents choose to continually send their daughters to WeHaKee Camp for Girls?  Well, girls need a nurturing and fun environment in order to successfully build their self-confidence and increase their sense of independence. And WeHaKee Camp for Girls leads the way by intentionally creating a welcoming and inclusive environment where girls can try new things, meet new people and stretch beyond their comfort zones as they explore themselves and discover their gifts.
If you are a parent looking for a place where your daughter can grow, excel and discover her abilities and gifts, WeHaKee Camp for Girls is your first choice. With nearly 40 activities lead by skilled, competent and caring staff, your daughter will extend herself in ways she might not otherwise have the chance. Camp WeHaKee offers each girl . . .
A program uniquely and intentionally designed to guide her in discovering her talents, skills and her most important gift – herself!
The opportunity to explore nearly 40 activities led by highly skilled and caring staff. Each girl can try activities in leadership, aquatics, sports, horseback riding, creative and performing arts, nature exploration, and more!
Exceptional Staff that are consistently focused on each girl – giving her a sense of belonging and creating an environment that builds confidence and enhances independence.
Directors with over 50 years experience in education and youth development. They know how to create a community where your daughter will excel and have great fun!
A camp experience based on Traditions, Values and Fun since 1923.
At the Heart of WeHaKee is Relationship
At WeHaKee Camp for Girls, girls will:
Be safe. Our staff is selected based on their exceptional skill sets, their strong understanding of children and youth development, and their sincere compassion for others. From there, they are carefully screened (including employment and criminal background checks) and extensively trained to ensure that they keep the safety, security and development of all the girls a top priority. To ensure this, WeHaKee Camp for Girls is fully accredited by the American Camp Association. A nurse is in residence throughout the summer. Nearly all WeHaKee Camp for Girls staff are certified in first aid and CPR. All aquatic activities are supervised and monitored by certified lifeguards ensuring safe waterfront and pool experiences for our campers.
Learn new activities and skills that will enhance her confidence, independence and motivation not only at camp, but that will remain when she returns home from her WeHaKee Camp for Girls experience.
Make friends from around the world that will last a lifetime.
Experience a positive, caring community where she can confidently experience who she is and embrace who she can become.
Have fun throughout each and every day – She'll have the time of her life!
Each girl at WeHaKee Camp for Girls will receive the care she needs because:
The camp facility is well built and beautifully maintained. Nearly all of the structures have undergone recent extensive renovations.
The program of activities offers the widest variety to capture the interests of any girl. Each girl will get to choose those activities she loves and those she wishes to explore.
A community atmosphere encourages freedom, growth, and responsibility which is nurtured and maintained each day. Living among girls from diverse religions, cultures, races and economic backgrounds, allows each girl to grow and develop in an atmosphere of acceptance and encouragement. Girls of all faiths and spiritual backgrounds have always been welcome at WeHaKee Camp for Girls.
In the compassionate WeHaKee Camp for Girls camp community she will share and learn with other girls and adults how to work together effectively, how to positively handle disagreements while accepting the differences in others, and enjoy the sense of fulfillment one experiences when serving the greater community. In short, she will build character deep within herself.
With the unique empowerment only found in an all-girl summer camp environment, WeHaKee Camp for Girls excels in guiding girls in becoming more comfortable with themselves and to accept and cherish who they really are.
WeHaKee Camp for Girls is noted by many as one of America's premier summer camps. If you're a girl (age 7 through 17), you will have more fun than you can imagine, create incredible friendships with girls from around the United States and the world, and discover gifts within you that you never knew were there. The experience of a lifetime is waiting for you at WeHaKee Camp for Girls.
To register today, click HERE!
Come join us this summer, and find out just how much FUN discovering yourself at camp can be!