WeHaKee 2021: A Summer Like No Other!
For nearly 14 months, the anticipation for Summer 2021 at WeHaKee Camp for Girls was palpitating! The heartbreak of closing camp in 2020 motivated our staff team and volunteers to create a safe and healthy environment while ensuring that the integrity of the high-quality program indicative of WeHaKee was not diminished. A tall order indeed! Success was achieved as our campers enjoyed a safe, healthy, fun, and fulfilling summer with not a single case of COVID-19 during all of our summer sessions!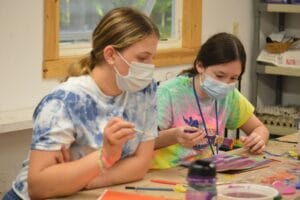 In many ways, camp was like it has always been with campers having fun swimming in the lake & pool, horseback riding, bicycling, creating pottery and painting landscapes, getting up on skis, paddling kayaks, playing tennis and soccer, taking unique photos, assembling the camp newspaper, and so many other 'typical' WeHaKee activities. We enjoyed meals together, attending Mass and evening prayer, participating in campfires, and creating lifelong bonds with cabinmates. But there were some changes needed to address the concerns brought on by a worldwide pandemic.
"Our 9-year-old daughter attended WeHaKee for the first time this summer, for four weeks. She absolutely loved it, and we felt she was in great hands; the staff were incredibly responsive to any concerns or needs. She scored it a 10/10 and is already begging to go back next summer for another 4 weeks."
We ate all our meals outside under three green and white party tents, sang our beloved camp songs with our masks on, gathered for evening prayer in cabin groups socially distanced from the other groups on the hillside outside the chapel, and washed our hands more than ever!
We enlisted the help of our camp families by asking them to safely limit their interactions in the days leading up to arrival to reduce the chance of COVID transmission. Our parents tested our campers before arrival, and we tested them upon arrival to help us maintain a safe 'bubble' at camp.  Our camp staff – one of our best ever – embraced the need for COVID protocols by reminding the campers of our 'Triad Precautions'; masking, social distancing, and being outside. They made sure we all were doing at least 2 of 3!
"I sent two daughters there for 2-week sessions for 12+ summers combined. They will both say it was the highlight of their summers. They met great girls and made friends from across the country and around the world. WeHaKee is truly a special place. The lake, grounds, facilities and offering of activities are top notch. Only better are the Camp Directors Maggie & Bob Braun. Their experience and knowledge managing camp insure confidence to the parents and a genuine welcome to the campers that they have found a place memories are made of and friends for life."
We are so grateful for the efforts of our families, staff, and campers to keep our camp community safe and healthy all summer long. Thank you so much – we could not have done it without your commitment!
More importantly however, the essence of WeHaKee remained strong and ever-present. Camp friends were reunited and new relationships were forged. And despite the use of face masks, campers were once again able to shed their many social masks and explore their individual and genuine selves in the real world of WeHaKee by trying new things and meeting new people.
"Our daughter attended this camp, and had the best experience. She can't wait to go back. The staff and the camp facilities were all up to the highest standards in all areas. Our daughter grew in every area that we hoped she would by attending this camp – her self confidence, her independence, her sense of adventure, ability to make new friends, and her excitement to try new things. She came home begging to be able to go back again."
It was a joy to hear the screen doors slam once again, to listen to the laughter travel through the white pines and across Hunter Lake, to sing familiar camps songs while learning new ones, and to see girls from throughout the nation and the world discover their uniqueness while appreciating all that they have in common. Worlds apart coming together was once again on display throughout the summer at WeHaKee Camp for Girls!
With what we've learned from our experiences this past summer, Summer 2022 promises to be even more spectacular! Registration is now open for next summer and for a limited time you can save up to $600 with our Ultimate Early Bird Discount. But don't delay as it only lasts for a few more weeks! Click HERE to register today!  As always, you can change sessions at any time without losing your discount. See you next summer at WeHaKee Camp for Girls!