Planning for Camp: COVID-19 April 16 Update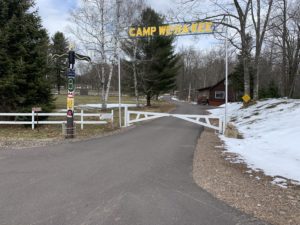 Our thoughts and prayers continue for the well being and safety of all of you, your families, and your friends, as we begin planning for camp. We also extend our intentions to the health care workers on the frontlines, the service workers still providing for our needs, and to all who are facing the potential of becoming infected as they do the work they do. And for those directly impacted by this pandemic – those who have contracted the disease, those who have lost loved ones as a result of COVID-19, those who have lost jobs – we ask that God extend his mercy and blessings on you as you deal with all of the ramifications of this critical situation. We at WeHaKee are well and working to remain safe. And for that, we are most thankful.
As of today, no decisions have been made regarding changes
for Summer 2020 at WeHaKee Camp for Girls 
We are still continuing plans for a complete summer on the shores of Hunter Lake. Our planning includes considerable time gathering facts and guidance from the CDC,  The WHO, as well as our state and local health officials. We are participating in countless video calls to discuss the situation with colleagues, other youth development professionals, the American Camp Association, and others to discuss and explore factual and data-driven information. And we are listening to our families who are consistently sharing their hopes and prayers that a camp experience will be available for their children. We hope so, too!
Here are some things we at WeHaKee Camp for Girls know so far:
We are committed to providing a safe environment for our campers and staff
We are committed to being good citizens to our greater Sawyer County (WI) community as well as the global community
We are committed to respecting and following shelter in place and social distancing orders and recommendations
Effective health screening and sanitation techniques related to COVID-19 are currently being vetted
Information about COVID-19 is changing rapidly
Despite the significant uncertainty, we are optimistic and hopeful. Challenging decisions lie ahead, but we are confident that WeHaKee will survive and thrive following this pandemic. The camp will be more important than ever in the lives of our campers and families whenever we can come together again on the shores of Hunter Lake. Our hope extends that all of you will continue to strongly support WeHaKee Camp for Girls as this will be critical to our ability to survive and thrive.
When will you know more?
Within the next 2-4 weeks, we will be planning a decision. We will notify our current families, friends, and alumnae once decisions are made for Summer 2020. Please stay connected with us to learn more and never hesitate to reach out to us if you have any questions or concerns. We thank you for your support, patience, and understanding. May God Bless you, your family, and friends with mercy and protection. Be well and stay safe.
Sincerely,
Bob, Maggie, Margaret, and the whole WeHaKee team