WeHaKee COVID-19 April 27 Update Decision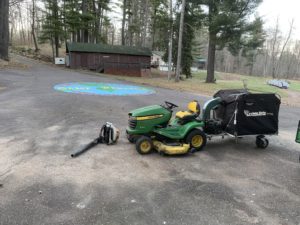 We have heard from many of our families and alumnae and we are deeply grateful for the words of encouragement and the optimism that have been shared since this pandemic has overtaken all of our lives. We too remain hopeful that we can find ways to serve our campers, our families, and our greater WeHaKee camp community this summer and beyond. As we have said from the beginning, any decision we make regarding camp in the age of COVID-19 will first and foremost be filtered through our commitment to ensuring the safety and well-being of all of our participants. 
We have met with our county health officials
We continue to pour over daily information from the CDC, the WHO, and the American Camp Association
We have discussed options with our advisory board and work with several subcommittees to ensure we are maintaining a comprehensive perspective
We meet and share with several different groups of camp and youth development professionals on a weekly basis.
We continue to prepare for a variety of scenarios for this summer.  
And we continue to hold out hope for Summer 2020!
At this time, no changes to Summer 2020 programming have been made
At this time, no changes for Summer 2020 have been made. You may ask 'why are we waiting?' We want to make the best-informed decision for (again!) the safety and well-being of all of our participants. One significant piece we are awaiting is a report from the CDC (in collaboration with the American Camp Association) that will offer guidelines and recommendations specifically for summer camp programs. We have learned that this report will be released incrementally with the initial portion hopefully arriving by May 1st. This will be the first detailed information available that will more clearly define what camps can and should do in relation to the COVID-19 pandemic.
For families that have children registered for WeHaKee 2020, we do offer a couple of suggestions for you at this time. Although our policies state that final payments need to be made by May 1st, we will not penalize anyone who chooses to delay payment until a definitive announcement regarding Summer 2020 has been made. Your registration will remain. We do encourage families to continue to complete and submit all paperwork at this time, so we can be best prepared for the arrival of each camper.
We understand that camp will be more important than ever this summer. And if we can maintain the integrity of our program while keeping each participant safe and healthy, we will be open this summer. But there is much to be learned yet regarding our ability to do so. We will continue to gather data and information from a broad variety of sources to ensure we make the decision that is right for all of us.
Thank you for your continued patience and understanding. And thank you again for your kind words of support and encouragement. We want the best for all of you and will do everything in our power to offer nothing but the best for all this summer and beyond.
Be well and stay safe.
Sincerely,
Bob, Maggie, Margaret, and the whole WeHaKee team