WeHaKee Featured Alumna: Nancy Gerrard
At WeHaKee Camp for Girls, we are so proud of the fact that our campers and staff come from all over the world to create a community together in Winter, WI. We are even prouder and always impressed by what those WeHaKee woman do in their own communities, and how their time at camp brings a little bit of WeHaKee wisdom out into the rest of the world!
A couple times a month, we would like to feature a WeHaKee Alumna so you can share in the pride and joy of your camp community! 
Our Featured WeHaKee Woman is Nancy Gerrard. Nancy lives in Wisconsin, not far from the WeHaKee winter office. As a former Advisory Board member, she participated in critical decision-making processes about the future of camp, always using her 7 childhood summers and amazing adulthood career as sources of wisdom. WeHaKe is blessed to have Nancy and alumnae like her who give back, knowing how much camp has impacted their lives. Read more about what Nancy had to say about WeHaKee…
---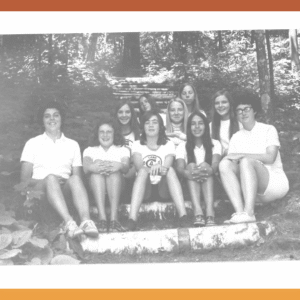 I attended camp as a camper starting in the summer of third grade. My stay at camp averaged four weeks per year and went through my freshman year in high school. A total of seven summers. 1967 to 1973. More recently for approximately six years I served on the board of directors for camp. That also was an enlightening experience that I appreciate the opportunity to have had. It was great to be able to give back just a bit to a place that is so near and dear to my heart.
For the past approximately 35 years I've been in the real estate business and own a real estate company in La Crosse Wisconsin. I am blessed to have a career that I truly enjoy. My 2 grown daughters, Erin and Anna Smith both in their mid-20s also attended camp for 5+ summers. And actually, this summer my niece's daughter will be at camp for the first time. That's third-generation.
Throughout my life I've been quoted many times saying, "Everything I know how to do I learned to do at camp." Of course, from all the fun activities that girls enjoy doing to the important people skills that we carry through our adulthood, Camp WeHaKee has made a tremendous impact on how my life has evolved. I feel very blessed to have had the opportunity as Camp was the highlight of my childhood!
---
We are lucky to have Nancy as a part of our community! Connect with Nancy and alumnae like her in our WeHaKee Alumnae Facebook group.