WeHaKee World News: 14 Reasons Why Camp WeHaKee Is The Best Choice For Your Daughter!
As we celebrate 100 years of Camp WeHaKee, we are taking a moment to reflect on the reasons parent select Camp WeHaKee as the best place for their daughters to grow, thrive and have fun!  Here are just a few of our thoughts: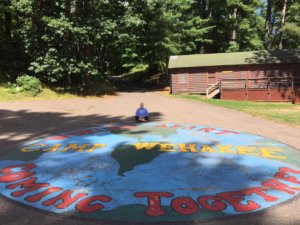 Great Camp Leadership WeHaKee has an remarkably skilled, knowledgeable and dedicated director team in Maggie and Bob Braun.  They have consistently provided an exceptional program for girls and young women for nearly two decades!  They bring over 50 years of combined experience in camping and youth development and are respected leaders in the camping community.
Feeling A Sense Of Belonging  Our camp is very intentional in helping each and every camper achieve a sense of belonging – feeling like they belong in our welcoming camp community!  Whether it is a camper's first summer at WeHaKee or their 10 year, each girl discovers she is an important and appreciated member of Camp WeHaKee!
Outdoor Adventure Camp WeHaKee offers opportunities for girls to participate in a variety of outdoor activities, such as hiking, kayaking, swimming, court and field sports, camp fires, and so much more!
Personal Growth WeHaKee provides a supportive, nurturing environment for girls to develop new skills, build confidence, and grow as individuals.  Our alumnae frequently share how their camp experience at WeHaKee has profoundly impacted their lives to this day!
Meaningful Relationships Camp WeHaKee provides a unique opportunity for girls to form lifelong friendships and connections with other girls from around the United States and throughout the world.  Worlds Apart Coming Together!
Access to Nature Our Camp is set in a beautifully natural, outdoor environment, providing girls with the chance to connect with nature and experience the beauty of the outdoors each and every day.
Fun and Relaxation WeHaKee provides a fun and relaxed atmosphere where girls can unwind, have fun, and just be themselves.
Skills Development Camp WeHaKee offers a range of nearly 40 activities and programs designed to help girls develop new skills and interests, such as arts and crafts, cooking, and more.  We constantly hear from girls how they discovered new interests and gifts they never imagined before while at camp!
Leadership Opportunities Through our WeHaKee Leadership Academy, we provide opportunities for girls to develop a wide range of leadership skills.  In addition, they are able to take on leadership roles in various activities and programs while being mentored by our exceptional staff role models.
Team Building Our camp activities and programs foster teamwork and collaboration, helping girls develop important social and communication skills.  The professional world has widely recognized the value of the 21st century skills learned through programs such as Camp WeHaKee.
Cultural Exchange Camp provides a diverse community where girls can meet and interact with people from different backgrounds, fostering cultural exchange and understanding.  In addition to girls and young women from throughout the United States, we have girls and counselors attending from Mexico, Guatemala, Peru, the United Kingdom, Germany, Australia, Bahrain, Saudi Arabia, Canada, and many more countries.
Healthy Habits Camp offers healthy meals, regular physical activity, and a supportive environment with great role models that encourage our campers to develop healthy habits and make positive lifestyle choices.
Unplugged Experience WeHaKee provides a break from technology and the distractions of everyday life, allowing girls to disconnect, focus on the present moment, and have a true summer camp experience.  Campers often share how surprisingly relieved they felt at camp without having to be constantly connected to their devices, rediscovering how much fun the real world of social connections can be!
Memories to Last a Lifetime A summer at Camp Wehakee offers a unique experience that provides each camper with lifelong memories, friendships, and skills that will stay with them forever.
Thank you so much for joining us this week.  Please don't hesitate to share this with your friends.  Help us get the message out that All Are Welcome at Camp WeHaKee!