WeHaKee World News: How To Find The Best Camp For Your Daughter
Welcome back to our new blog offering, The WeHaKee World News!  We are honored you have chosen to join us and we hope you find our posts helpful!  Although we think Camp WeHaKee is a wonderful place for all, the reality is that for an exceptional camp experience, it's all about being the right fit for the camper.  When the camp fits, the camper will thrive and grow in incredible ways all while having lots of fun.  But how does one figure out which camp is the best fit for their child?  Overnight camps can be a great opportunity for your children to gain independence, make new friends, and try new activities, but with so many to choose from it can be overwhelming.  To help, we have assembled a few pointers that will help find that perfect fit!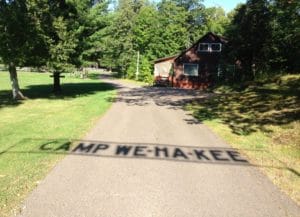 Consider your child's interests: Look for a camp that offers activities that align with your child's interests, whether it be horseback riding, swimming, or theater. This will help ensure that your child will be engaged and having fun while at camp.  WeHaKee offers nearly 40 activity choices and also allows campers to try things they may have never considered before, discovering hidden talents and gifts they never knew they had!  Click HERE to see all the amazing activities WeHaKee has to offer.

Find out about the Camp Directors: Consider how long they have directed the camp.  Check into their experience and training related to education and youth development.  Are they readily available to talk with parents?  WeHaKee Directors, Maggie & Bob Braun have been at WeHaKee for nearly 20 years and they are highly respected by their colleagues in the camping industry.  And they love to talk with parents about the value of a camp experience!  Click HERE to learn more about what Maggie & Bob bring to WeHaKee.

Look at the camp's philosophy and values: Different camps have different philosophies and values, so it's important to find one that aligns with your family's beliefs. For example, some camps may focus on building self-esteem, while others may emphasize outdoor education.  At the Heart of WeHaKee is Relationship is not just a slogan at WeHaKee – it is in all we do!  Click HERE to learn how our mission drives all that we do to create that remarkable WeHaKee experience.

Check out the camp's staff: The staff at an overnight camp plays a crucial role in the children's experience. Look for a camp with well-trained and experienced counselors who will be able to provide a safe and nurturing environment for your child.  WeHaKee hires college staff that display enthusiasm, compassion, and knowledge of child and youth development. They receive nearly two weeks of in-depth experiential training in safety, program implementation, group dynamics, behavioral guidance and much more to provide an exceptional camp experience for our campers!

Consider the location: The location of the camp can impact the type of experience your child will have. Some camps are located in the woods, while others are located on the beach. Consider what type of setting your child will enjoy the most.  WeHaKee is nestled between the base of the beautiful Chequamegon-Nicolet National Forest and Hunter Lake along the Chippewa River Flowage.  Our site is idyllic and well groomed to offer an outdoor experience that still allows for the comforts of home!

Look at the camp's accreditation: Accreditation is a good indication of a camp's commitment to safety and quality programming. Look for camps that are accredited by organizations such as the American Camp Association (ACA).  Camp WeHaKee has been accredited by the ACA for decades and the directors, Maggie and Bob have been actively involved in the accreditation program for over 20 years, helping other camps reach the high standards put forth for the nation's top camps.  Click HERE to learn all the advantages of attending an ACA accredited camp.

Talk to other parents: Find out what other parents have to say about the camp. Ask them about their child's experience, what they liked and didn't like, and if they would recommend the camp.  We can help you contact other parents regarding their experiences with Camp WeHaKee.  Click HERE for our contact information. 
Choosing an overnight camp for your daughter is an important decision, but by considering these factors, you can ensure that you select a camp that will provide a fun and safe experience for your child.  We at WeHaKee are always willing to help you find the best camp fit for your child.  Contact us anytime to start the process to an amazing summer of growth and fun!