WeHaKee World News: WeHaKee Is More Important Than Ever In Our Post-COVID World
As the world continues to navigate the post-COVID landscape, parents and caregivers are looking for safe and enriching summer activities for their children. After nearly three years of virtual schooling and social distancing, many families are seeking opportunities for their children to connect with others, engage in physical activity, and develop new skills. For girls ages 7-17, Camp WeHaKee provides a unique and rewarding summer experience that meets these needs and more.
Located in Winter, Wisconsin, Camp WeHaKee for Girls has been offering a fun and supportive environment for girls to learn, grow, and have fun for 100 years. With a wide range of activities available, including horseback riding, water sports, arts and crafts, and much more, WeHaKee offers campers a chance to explore their interests, try new things, and build lasting friendships.
But in the post-COVID world, the benefits of attending Camp WeHaKee go beyond just fun and friendship. Here are some of the reasons why attending camp can be especially important in this new era:
Connection and community
After a year of social distancing and remote learning, many children are craving social interaction and connection. At Camp WeHaKee, campers have the opportunity to meet new people from all over the country and world, develop close bonds with their peers and counselors, and participate in group activities that promote teamwork and cooperation.
At WeHaKee, campers are also encouraged to embrace their individuality and celebrate diversity. With a strong focus on inclusivity and acceptance, the camp creates a welcoming environment where every camper can feel valued and supported.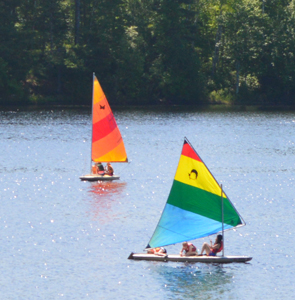 Outdoor recreation
In a time when many children are spending more time indoors and online, outdoor recreation has never been more important. Camp WeHaKee provides campers with a chance to get outside, breathe fresh air, and engage in physical activity. From hiking and swimming to kayaking and archery, the camp offers a wide range of activities that promote health and wellness.
In addition to the physical benefits, spending time in nature has been shown to have a positive impact on mental health. Research has found that spending time in green spaces can reduce stress, improve mood, and boost cognitive function.
Developing new skills
Camp WeHaKee provides campers with the opportunity to develop new skills and explore their interests in a supportive and encouraging environment. With activities ranging from culinary arts to creative writing, campers can discover new talents and passions that they may not have had the chance to explore before.
The camp also offers a variety of leadership and teamwork programs that help campers build confidence, communication skills, and problem-solving abilities. These skills can be valuable not only in the camp setting but also in the classroom and beyond.
Independence and self-reliance
Attending camp can be a great way for children to develop independence and self-reliance. Away from the familiarity of home and family, campers have the opportunity to make their own decisions, take responsibility for their actions, and develop a sense of self-sufficiency.
At Camp WeHaKee, campers are encouraged to take on new challenges and step out of their comfort zones. Whether it's trying a new activity or speaking up in a group setting, campers learn to trust themselves and their abilities.
To learn more about what WeHaKee Camp for Girls has to offer, visit our website  at WeHaKeeCampforGirls.com or give us a call at 608-787-8304.  Better yet, click HERE to schedule a video conversation with our directors.  We look forward to welcoming your daughter to WeHaKee Camp for Girls, where she'll create lifelong memories and friendships while learning valuable life skills in a safe and nurturing community.  We look forward to hearing from you!