WeHaKee World News: Why Two Weeks (Or More)? Lots Of Reasons!
Summer overnight camps like Camp WeHaKee are one of the best ways for girls and young women to make new friends, learn new skills, and gain confidence and independence. WeHaKee offers sessions that last for two weeks, four weeks and even six weeks , and there are numerous benefits to this extended stay. In this post, we will explore the advantages of attending summer camp for two weeks or even longer.
Greater opportunity for skill-building
One of the main benefits of attending a summer camp for two weeks or longer is the opportunity to develop new skills. Whether it's learning to ride a horse, throwing a pot on the wheel, hitting a bullseye, or getting up on waterskis for the first time, two weeks provides ample time to master a new skill. WeHaKee offers numerous specialized programs that allow campers to focus on a particular activity, giving them the chance to develop their abilities to a higher level than they would in a shorter program.
Stronger social connections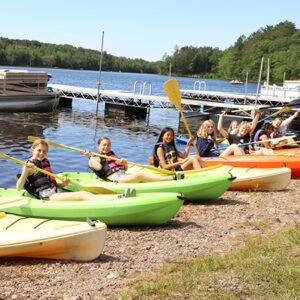 Attending Camp WeHaKee for an extended period of time allows girls and young women to build stronger social connections with their peers. Spending two weeks or more in close proximity to the same group of people can foster meaningful relationships that last long after camp is over. Campers have the chance to bond with others who share their interests, and to form friendships that are based on common experiences and shared memories.  WeHaKee alumnae consistently report that their best lifelong friendships began at camp!
Increased independence
Summer camp is an excellent opportunity for campers to gain independence. When attending camp for two weeks or longer, campers have the chance to learn how to manage their own time and responsibilities. They must take care of their own belongings, maintain their living space, and make decisions about how to spend their free time. This increased responsibility helps to build self-confidence and prepares them for the challenges of adulthood.  Many WeHaKee parents share the significant growth they observed when their daughters returned home more willing and capable of managing their lives on their own (even cleaning their rooms without being asked!).
Exposure to new experiences
Attending WeHaKee for an extended period of time provides campers with the opportunity to try many new things and have new experiences. WeHaKee offers programs that are not always available in other settings, such as canoe trips, adventure programs, and cultural immersion programs. These unique experiences can broaden a camper's horizons and open their minds to new possibilities.
Development of resilience
Being at camp on one's own can be challenging at times, but these challenges can help campers develop resilience. When attending camp for two weeks or longer, campers may face homesickness, unfamiliar surroundings, and other obstacles. However, they also have the opportunity to overcome these challenges and develop the skills necessary to thrive in new environments. This resilience can serve them well throughout their lives, helping them to face future challenges with confidence.
Time away from technology
In today's world, many children and teenagers spend a significant amount of time on their phones, computers, and other devices. Attending summer Camp WeHaKee for two weeks or longer provides our campers with the chance to unplug and disconnect from technology. This break from screens can be refreshing and can allow campers to focus on building relationships, exploring nature, and engaging in physical activity.  After initially being reluctant to step away from their devices, most campers share they experienced an unexpected freedom not being constantly tied to social media.
Improved physical health
Like many summer camps, WeHaKee offers programs that promote physical activity and healthy living. Whether it's swimming, biking, or participating in team sports, campers who attend camp for two weeks or longer have the chance to engage in regular physical activity. This leads to improved physical health, as well as increased self-confidence and a greater sense of well-being.
In conclusion, attending WeHaKee Camp for Girls for two weeks or longer can provide your daughter with a wide range of benefits. From skill-building and social connections to increased independence and exposure to new experiences, WeHaKee will be a transformative experience that will help your child grow and develop in countless ways. A WeHaKee session  extending for two weeks (or more!) will provide the greatest benefits and leave your child with a lifetime of memories and friendships.
To learn more about our all the sessions we offer, visit our website at WeHaKeeCampforGirls.com. We look forward to welcoming your daughter to WeHaKee Camp for Girls, where she'll create lifelong memories and friendships while learning valuable life skills.  Learn more at WeHaKeeCampforGirls.com or give us a call at 608-787-8304.  Better yet, click HERE to schedule a video conversation with our directors.  We look forward to hearing from you!