90 Years of WeHaKee! Who Are These Sisters?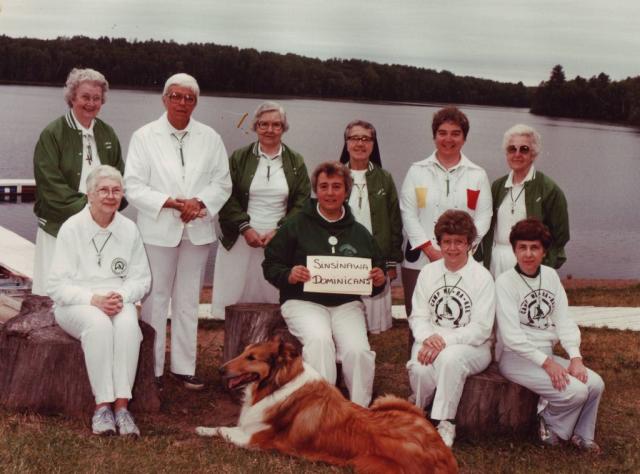 This past summer, we shared a post on our WeHaKee World Blog (see That Was Then, This Is Now, 90 Years of WeHaKee: Sisters At Camp – August 1, 2012) visiting the role that the Sinsinawa Dominican Sisters played in the creation, development, and operation of WeHaKee Camp for Girls. Although lay leadership and staff have played a much larger role in new Millenium, Sisters still visit, volunteer, and have a significant impact on the program.  The biggest change, however – Sisters no longer take up residence on camp as they have in the past. Yes, they certainly stay on camp when they visit or volunteer, but they do not have Barker Lake Road as a home address.
Recently, as we were exploring archive photos of WeHaKee, we came across this photo of the Sisters who were living at camp during this summer in the mid, 1980's – some of those pictured lived at camp for the summer, while others were your-round residents of WeHaKee! We challenge our blog visitors to identify who those Sisters are! We'll give you a head start! The woman in the middle holding the sign is Sr. Arturo Cranston (the camp director at the time).   
Were you at camp during this time in the 1980s? Then see if you can identify the other Sisters and share any stories you may have about them and their roles at WeHaKee! Looking forward to hearing from you! Thanks for visiting with us today!