Camp Directors with Over 50 Years Combined Experience
Hi! We are Maggie and Bob Braun and we are the Directors of WeHaKee Camp for Girls. As the directors of WeHaKee Camp for Girls since 2004, we welcome you to this remarkable camp community and thank you for taking the time to explore us 'virtually' on the web.
Together, we bring over 50 years of combined experience working with children and youth, and WeHaKee Camp for Girls has allowed us to use our unique set of skills in a large number of ways.
With two daughters of our own, we know the challenges faced by parents to help their daughters become confident, independent young women. We appreciate the incredible impact that the WeHaKee Camp for Girls experience has on each girl in helping her discover all she can be.
Please don't hesitate to contact us at anytime as we are more than happy to assist you in any way. We love to talk about camp!
E-mail Bob & Maggie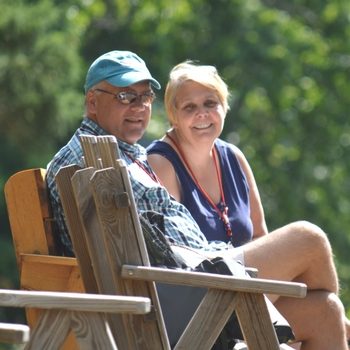 Maggie and Bob Braun, Directors of WeHaKee Camp for Girls
Messages from Our Camp Directors
Maggie and Bob (and Margaret, too!) On-The-Road for the 2018 WeHaKee Welcome Tour!
We're back on the road for another great recruiting season telling the story of WeHaKee to interested families and seeking great staff for a fantastic summer together on the shores of Hunter Lake!  We want to Welcome You to the WeHaKee community!
We personally invite you to visit with us when we are in your area!
Check out where we will be travelling in 2018!  If you want us to visit your community, school or event, we would love to give it a try! All you have to do is let us know! Click HERE to contact us!
SATURDAY, JANUARY 20th, Chicago Open House, Riverside Scout Cabin, Riverside, IL, 1pm to 3pm
SUNDAY, JANUARY 21st, Northbrook Open House, Sheraton Northbrook, Northbrook, IL, 12pm to 2pm
THURSDAY, JANUARY 25th, Western Illinois University Camp Job Fair, Union Ballroom, Macomb, IL, 11am to 5pm
SATURDAY, JANUARY 27th, Summer Opportunities Fair, Whitfield School, St. Louis, MO, 10am to 3pm
TUESDAY, JANUARY 30th, Summer Camp/Job Fair, University of Minnesota-Morris, Oyate Hall, Morris, MN, 11am to 3pm
WEDNESDAY, JANUARY 31st, Minnesota State Job Fair, Minnesota State University, CSU Ballroom, Mankato, MN, 9:30am to 2:30pm
FRIDAY, FEBRUARY 2nd, Valparaiso University Career & Internship Fair, Harre Union Ballroom, Valparaiso University, Valparaiso, IN, 10am to 2pm
SATURDAY, FEBRUARY 3rd, Nashville Parent's Summer Camp Adventure Fair, Cool Springs Galleria, Nashville, TN, 10am to 2pm
MONDAY, FEBRUARY 5th, Fox Valley Summer Activities Fair, Wredling Middle School, St. Charles, IL, 5:30pm to 8pm
TUESDAY, FEBRUARY 6th, Mini Camp Job Fair, Northland College, Ashland, WI, 10am to 2pm
TUESDAY, FEBRUARY 6th, Summer Recreation Open House, York Community High School, Elmhurst, IL, 6pm to 8pm
WEDNESDAY, FEBRUARY 7th, University of Wisconsin-River Falls Opportunity Fair, UWRF Riverview Ballroom, River Falls, WI, 10am to 1pm
WEDNESDAY, FEBRUARY 7th, Summer Job Fair, Kirby Student Center Main Hallway, University of Minnesota – Duluth, Duluth, MN, 10am to 2pm
WEDNESDAY, FEBRUARY 7th, Mini Camp Job Fair, University of Wisconsin-Superior, Superior, WI, 4:30pm to 7pm
THURSDAY, FEBRUARY 8th, Mini Camp Job Fair, College of St. Scholastica, Duluth, MN, 10am to 2pm
WEDNESDAY, FEBRUARY 14th, Winona State University Summer Opportunities Fair, Kryzsko Commons, WSU,175 West Mark Street, Winona, MN, 11am to 2:30pm
THURSDAY, FEBRUARY 15th, University of Wisconsin-La Crosse Summer Job Fair, Student Union – The Bluffs Room, La Crosse, WI, 10am-3pm
SATURDAY, FEBRUARY 17th, Indy's Child Camp Fair, Castleton Square Mall, Indianapolis, IN, 11am to 3pm
SUNDAY, FEBRUARY 18th, WeHaKee Reunion, Blue Moon Pizza, Sandy Springs GA, 4pm to 6pm
MONDAY, FEBRUARY 19th – FRIDAY, FEBRUARY 23rd, American Camp Association National Conference, Orlando, FL
TUESDAY, FEBRUARY 20th, WeHaKee Reunion Pizza Party, Anthony's Coal Fired Pizza, Miami, FL,, 6:30pm to 8:30pm
SATURDAY, FEBRUARY 24th, Minnesota Parent Camp Fair, Como Zoo & Conservatory, St. Paul, MN, 10am to 2pm
SUNDAY, FEBRUARY 25th, WeHaKee Opelika Reunion, TBD, Opelika, AL, 1pm to 3pm
MONDAY, FEBRUARY 26th, College of Saint Benedict, Gorecki Student Center, St. Joseph, MN, 10:30am to 2:30pm
MONDAY, FEBRUARY 26th, Spring Hill University, Student Center Lobby, Mobile, AL, 11am to 1:30pm
TUESDAY, FEBRUARY 27th, Tulane University, Center for University Life, New Orleans, LA, 11:30m to 2pm
WEDNESDAY, FEBRUARY 28th, Loyola University, Danna Center, New Orleans, LA, 11:30m to 1:30pm
THURSDAY, MARCH 1st, Xavier University, University Center, New Orleans, LA, 11am to 1pm
SUNDAY, March 4th, WeHaKee Reunion, Grub Burger Bar, The Woodlands, TX, 6pm to 8pm
MONDAY, MARCH 5th, University of St. Thomas, Crooker Center, Houston, TX, 12pm to 2:30pm
TUESDAY, MARCH 6th, University of Texas – San Antonio, San Antonio, TX, 10:30am to 2pm
WEDNESDAY, MARCH 7th, St. Mary's University, San Antonio, TX, 11am to 2pm
WEDNESDAY, MARCH 7th, WeHaKee Reunion,  Reales Italian Cafe, Austin, TX, 6pm to 8pm
THURSDAY, MARCH 8th, St. Edward's University, Austin, TX, 10am to 1pm
THURSDAY, MARCH 8th, D181 Summer Camp Expo, Prospect School, 100 N. Prospect Ave., Clarendon Hills, IL, 6pm to 8:30pm
THURSDAY, MARCH 8th, WeHaKee Reunion, TBD, Dallas, TX, 6pm to 8pm
MONDAY, MARCH 12th – THURSDAY, MARCH 15th, WeHaKee Phoenix Reunion/Recruiting Events, TBD
TUESDAY, MARCH 13th, Annunciation Catholic School, Cave Creek, AZ, 3:pm to 4:30pm
MONDAY, MARCH 19th, STAGE 203 Summer Activities Fair, Kennedy Junior High School, Lisle, IL, 6pm to 8pm
THURSDAY, MARCH 22nd, IPPC 2018 Summer Activities Fair, Still Middle School, Aurora, IL 60504, 6pm to 8pm
THURSDAY, MARCH 29th, Summer Camps and Part Time Job Fair, Davies Center-Ojibwe Ballroom, University of Wisconsin-Eau Claire, Eau Claire, WI, 10am-1pm
Contact Us Today for More Info About WeHaKee