Sunday Snippet: Diversity Is Healthier!
Diversity can come in a multitude of forms.   Of course we can think of diversity in terms of culture, race, ethnicity, socio-economic, geographic and so much more.   Today we are visiting diversity in a more micro sense or from the internal perspective ~ diversity from within!
At a restaurant earlier this week, I overheard a group at a table next to us discussing how good the girls basketball teams were in their area. "They get them in third grade and those girls don't do anything else but play basketball together.   That makes them great in high school".   These folks were quite proud of this fact and I do understand. However, there is a feeling of sadness that these girls from age 8 will have very limited opportunities to explore all their gifts and interests beyond the basketball court.   Yes, they will understand the value of commitment and working together as a team and they might develop some very close relationships with this small group of girls.   There are absolutely some great things that can be achieved when working together toward a common goal.   But, is this what is best for 8 year olds?
This is a common stance.   Many coaches, many schools and many parents support the need to for kids to 'specialize' – to focus on one sport at younger and younger ages.   There is a huge body of research emphasizing the perils of this line of thinking (kids brains and bodies are still growing and developing), yet it continues to thrive.   Sadly, many children and youth are convinced that they must shed things that they love and enjoy so that they can be better at one thing.
Recent research suggests that it is not only detrimental for development, it is bad for one's health to specialize at younger ages!   Athletic specialization is a significant cause of repetitive stress and overuse injuries.   With the escalation of sports injuries in children and youth – specifically over 3.5 million as documented by the American Orthopedic Society for Sports Medicine (AOSSM) – the most prevalent is the overuse injury.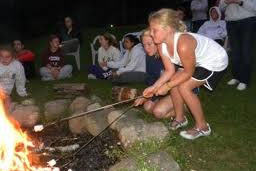 In an attempt to counter this disturbing trend, the AOSSM has launched the STOP campaign (Stop Sports Injuries: Keeping Kids in the Game for Life) to bring this to light and to offer solutions.   One of the most notable solutions is the need for youth athletes to diversify by participating in a variety of sports and other activities.   STOP spokespeople Sam Bradford (Heisman Trophy winner and St. Louis Rams quarterback) and John Smoltz (former all-star major league pitcher) recently have emphasized their multi-sport participation in middle and high school and that their favorite sports then were not the sports they ended up succeeding in as adults.   (Read a recent related ESPN article).
What in the world does this have to do with Camp WeHaKee?   Well, with the choices available to girls at WeHaKee, there is a plethora of opportunities for them to try new things, to discover their talents and gifts, to add new interests and to have fun in an active and supportive community.   WeHaKee alumni have gone on to succeed athletically, academically and professionally without the pressure to specialize at early ages.   At WeHaKee, girls can specialize in life and ALL it has to offer!