The Why and How of Gratitude
Welcome to the inaugural edition of Camp WeHaKee's new blog series entitled WeHaKee Wisdom! We thank you for joining us today. Each Sunday we plan to examine and explore various perspectives in the world of youth development with the objective of offering guidance that can positively influence our children's growth in impactful and appropriate ways. We would love to hear what you think. Feel free to offer suggestions of other topics or resources related to the healthy development of our children!
With the Thanksgiving holiday just a few short days away, we want to take this moment to acknowledge those who came before us at Camp WeHaKee:
In honor of the Anishinaabe people, the original peoples and caretakers of this land,
we would like to recognize that Camp WeHaKee inhabits the land of the Ojibwe people.
Camp WeHaKee also recognizes the heritage of our namesake, Mary WeHaKee, whose mother was Lakota Sioux.
We ask all to take a moment to honor and celebrate the ancestral sacred lands and culture of all indigenous Peoples.
It seems an appropriate time to explore the benefits of gratitude in our children's lives. Gratitude can have numerous positive effects on a child's emotional, social, and psychological development. Let's examine a few ways in which practicing gratitude can contribute to a child's growth: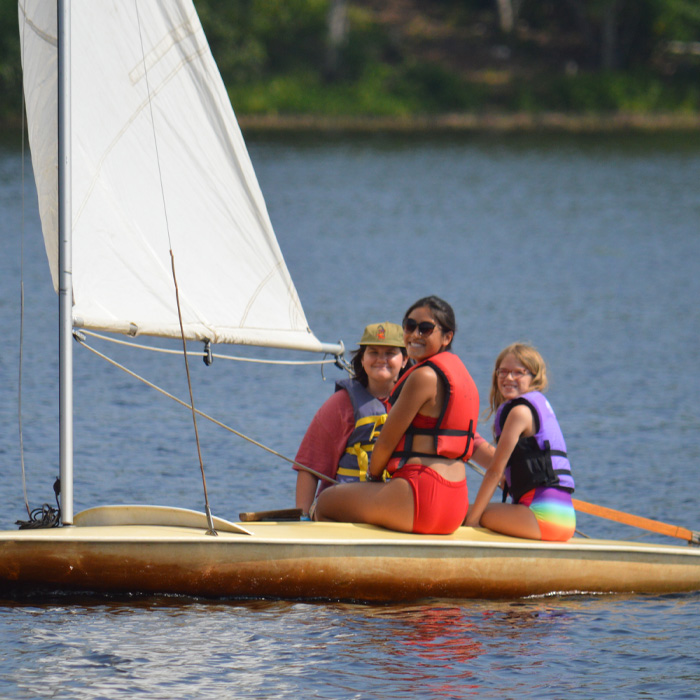 Emotional Well-being:

Increased Positive Emotions

: Expressing gratitude is linked to an increase in positive emotions. Children who regularly acknowledge and appreciate the positive aspects of their lives tend to experience more joy, optimism, and happiness.

Improved Mood Regulation

: Grateful children may develop better emotional regulation skills. They learn to focus on positive aspects even in challenging situations, which can contribute to a more balanced emotional state.

Social Development:

Enhanced Empathy

: Gratitude fosters empathy as children become more aware of the efforts and kindness of others. Recognizing and appreciating the actions of friends, family, and community members helps develop a sense of understanding and compassion.

Strengthened Relationships

: Expressing gratitude promotes positive interactions with others. Children who appreciate and acknowledge the support they receive are likely to build stronger, more positive relationships with peers, teachers, and family members.

Psychological Growth:

Increased Resilience

: Grateful children often develop a resilient mindset. They are more likely to view setbacks or challenges as opportunities for growth and learning rather than insurmountable obstacles.

Positive Self-Image

: Regularly practicing gratitude can contribute to a positive self-image. Children who acknowledge and appreciate their own strengths and achievements tend to develop a healthier sense of self-worth.

Academic Performance:

Improved Focus and Attention

: Gratitude is associated with increased attention and focus. Children who are grateful for educational opportunities and support may exhibit better concentration in school, leading to improved academic performance.

Motivation for Learning

: Grateful children are more likely to be motivated to learn and explore new things. They may see education as a valuable gift and approach learning with enthusiasm.

Cultivation of Positive Habits:

Establishment of Lifelong Habits

: Learning gratitude as a child can establish a positive habit that continues into adulthood. Adults who practice gratitude often experience a range of physical, psychological, and social benefits.

Reduced Materialism

: Grateful children may be less focused on material possessions and more appreciative of non-material aspects of life, such as relationships, experiences, and personal growth.

Development of Coping Skills:

Effective Coping Mechanisms

: Gratitude helps children develop effective coping mechanisms in the face of challenges. Rather than dwelling on negativity, they may approach difficulties with a more positive and solution-oriented mindset.
Encouraging and nurturing a sense of gratitude in children can have lasting positive effects on their overall development and outlook on life. This is WHY gratitude is so important in youth development, but HOW do we help our children apply gratitude in their lives? Here are some practical tips we discovered that can help instill gratitude in children:
Lead by Example:

Children often learn by observing the behavior of adults. Demonstrate gratitude in your own life by expressing thanks for everyday moments and being appreciative of the people around you.

Express Your Own Gratitude:

Vocalize your own gratitude regularly. Share what you're thankful for during family meals or discussions. This sets a positive example and shows kids that expressing gratitude is a normal and positive habit.

Create a Gratitude Ritual:

Establish a routine for expressing gratitude, such as sharing one thing you're thankful for each day during family dinners or bedtime. Consistency helps form habits.

Use Gratitude Journals:

Provide each child with a gratitude journal where they can write or draw things they are thankful for. Encourage them to use it regularly, perhaps before bedtime or in the morning.

Focus on the Positive:

Help children shift their focus from what they don't have to what they do have. Encourage them to find the positive aspects of challenging situations.

Volunteer Together:

Engage in community service or volunteer activities as a family. This experience can help children understand the concept of giving back and cultivate a sense of gratitude for their own circumstances.

Discuss Feelings:

Encourage open conversations about emotions. When children express negative feelings, guide them towards finding positive aspects or solutions, fostering a mindset of gratitude.

Celebrate Achievements:

Acknowledge and celebrate personal and academic achievements. This helps children recognize their efforts and the support they receive from others.

Teach Mindfulness:

Introduce mindfulness activities, such as deep breathing or meditation, to help children stay present and appreciate the current moment.
Remember that cultivating gratitude is an ongoing process. Be patient, encourage a positive mindset, and celebrate the progress your child makes in embracing gratitude. At Camp WeHaKee, we do this by closing each day with community opportunities to express our thankfulness for all that we have experienced that day. We find that by practicing gratitude we are able to better access and appreciate our authentic selves and all we each have to offer!
To close, all of us at Camp WeHaKee would like to express our gratitude toward all of you! We thank our campers for sharing their joy and childlike love of life. We thank our families embracing the value and importance of camp for their children. We thank our staff for abundantly giving of themselves with energy, enthusiasm and compassion for the benefit and success of our campers. And we thank all of you for joining our WeHaKee Wisdom! community by taking the time to read what we have to share. We are most grateful to all and wish you all a very fulfilling holiday season!