a Values Based Experience at WeHaKee
ALL are welcome at WeHaKee, and have been since 1923!
At WeHaKee, it has been our tradition to be welcoming toward and accepting of all who live and identify as female regardless of the gender assigned at birth and those assigned female at birth who now identify as non-binary or gender non-conforming. Living in a diverse community with girls from a variety of cultures, races, regions and socio-economic backgrounds, allows each girl to grow and develop in an atmosphere of acceptance, encouragement and social growth.
We treat each camper respectfully and never advocate one approach over another. We focus on our commonalities while seeking to learn more about our differences in an accepting environment throughout camp.
The WeHaKee experience is about embracing the universal values of Kindness, Truth, Justice, and Peace. Upon those values we build a camp experience that cherishes what each camper brings. At WeHaKee it is about LIVING these values within our own beliefs in all we do on a daily basis to build stronger, more positive relationships while embracing the unique differences within each of us.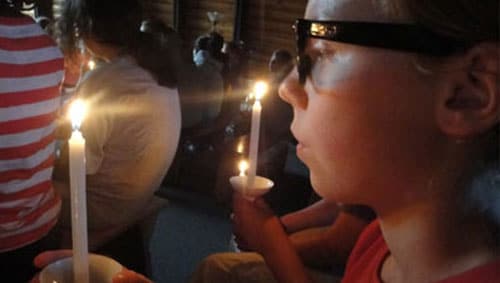 Our campers and staff consistently share that they have felt accepted without judgement at WeHaKee regardless of where they are on their growth journey. All are truly welcome on the shores of Hunter Lake!
Building A Camp Experience on Universal Values
Coming Together as One Camp Community
As a resident camp originally founded by the Sinsinawa Dominicans, we do offer opportunities for the community to come together to celebrate our spirituality. We do so in such a way that campers and staff feel welcome and accepted and they can participate at a level that is comfortable for them.  
We conclude each day with Evening Reflection, where each cabin group has a chance (with staff guidance and support) to lead the camp community in  songs, skits and other ways to reflect on another good day at WeHaKee. This short gathering in our beautiful lakeside chapel helps bring closure to each day while providing each of us a chance to reflect on all that we have received and encourages us to embrace a sense of gratitude.