What Does YOUR Summer Look Like?
Happy Friday Everyone!
Did you get the chance to meet the WeHaKee staff I introduced in the past few weeks? They are really a great bunch, and many of them have started traveling from very far away to join us for the summer!
Staff training starts on Sunday, and one thing I am very excited about is some of the new improvements to camp! From a simple fresh coat of paint (less simple when you are painting a very tall sign!) to whole new structures, there's been a lot done to make the WeHaKee 2017 site perfect for all the campers this summer.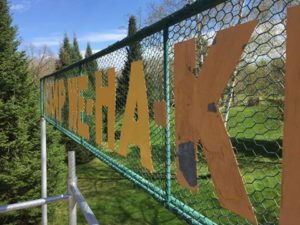 Camp is a great place to return to year after year and see familiar faces and sights. Hunter Lake at dusk, the shady path down cabin row, the sunny tennis courts, or the colorful art barn: all bring back unique memories of summers past. I hope you cherish those memories like I do! 
And just like a fresh coat of paint on the fences, things will look a little different this summer. Campers are coming for the very first time and 2017 will be the first WeHaKee they know. New campers are vital to keep WeHaKee a place of inclusion and welcoming. They are an opportunity to make new friends and share new ideas. 
So this is a little reflection for all of us: what can I do to cultivate and grow a brand new summer 2017? How do I cherish the memories of WeHaKee I have so they become seedlings for my summer 2017, and support the summer of the campers around me?
I encourage all of us to take the time to grow a little bit this summer: grow together in friendship, grow closer to nature and God, and grow in happiness!
There's still time to register for a summer of growth at WeHaKee and make 2017 unique by your presence with us! Click here for more information, and don't forget to tell a friend!
See you at camp!