Sunday Snippet: The Power of Giving Is You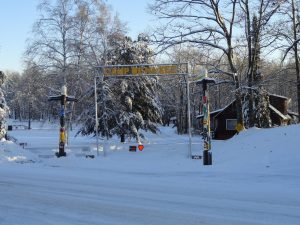 Community – the literal meaning of the word community (via it's Latin roots) is 'to give among one another'.  Not to 'live', but to 'give' among one another.  For those of you who have attended WeHaKee as either a camper, staff member or other participant, you know that community is the cornerstone of the camp experience.  And it is because we come together and give among one another each and every day at camp.  We give through supporting each other, sharing our friendship with each other, sharing the fun we have together.  In short, camp IS about giving to each other and that is how the community of WeHaKee has been built for over 95 years!
The beauty of the WeHaKee experience is that it does not end when we depart the shores of Hunter Lake.  It continues in the friendships we maintain with friends from near and far and it continues in the memories we hold in our minds and in our hearts.  When we give to one another we gain a sense of power.  Not power over others, but rather the power to influence our community in positive and meaningful ways for the benefit of ourselves and others.  When we give our gift to others it not only comes back to us in a better world, it comes back in the sense of satisfaction we feel that we have made life for one another a bit better than it was before our gift was received!
In the spirit of creating and maintaining a vibrant community, WeHaKee is asking you as a member of our camp community to give among one another with a financial gift.  We have a generous, yet small group of donors that have given much to our community.  We want to widen our river of giving by building a much bigger and diverse community of supporters.  Consider a gift of any size from $5 to $50 to $5000 to… well that is up to you and your ability to give!  Your gift will help us to not only maintain this special community of WeHaKee, it will help us grow into an even more vibrant and robust community of WeHaKee women!
If you are just a year or two out from your time at Camp WeHaKee or maybe your camp community memories are from decades ago, you can still have the power to influence your camp community as it continues its work to help girls and young women become independent, confident and empowered women!
The congregation of the Dominicans of Sinsinawa have supported WeHaKee for over 95 years, but their ability to continue their strong level of support is being increasingly strained by the demands of an aging and diminishing population of Sisters.  And as they age, they need to divert their resources to support the care of one another in their own community.  Eventually (and relatively soon!) they will be unable to financially support the great work that WeHaKee has been doing for nearly 5 generations.  It is critical and urgent that we increasingly rely more and more on our camp community 'to give among one another'.
Without your support our camp community will not be able to sustain itself and will not make it to our 100th anniversary.  Please step up and give what you can so we can achieve 100 years of camping and continue the good works of WeHaKee well into our next century!
Thank you and enjoy your week!