The 2018 Welcome Tour Is On The Road!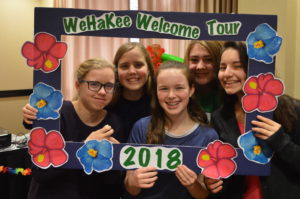 We are out the door and visiting campers, alumnae, old friends and new families as we begin the 2018 WeHaKee Welcome Tour.  This year we will be travelling across country to say hello to our WeHaKee friends and meet new families eager to learn all that WeHaKee has to offer. And we hope to see you along the way!  Here is when and where we will be over the course of the next three months…
SATURDAY, JANUARY 20th, Chicago Open House, Riverside Scout Cabin, Riverside, IL, 1pm to 3pm
SUNDAY, JANUARY 21st, Northbrook Open House, Sheraton Northbrook, Northbrook, IL, 12pm to 2pm
THURSDAY, JANUARY 25th, Western Illinois University Camp Job Fair, Union Ballroom, Macomb, IL, 11am to 5pm
SATURDAY, JANUARY 27th, Summer Opportunities Fair, Whitfield School, St. Louis, MO, 10am to 3pm
WEDNESDAY, JANUARY 31st, Minnesota State Job Fair, Minnesota State University, CSU Ballroom, Mankato, MN, 9:30am to 2:30pm
FRIDAY, FEBRUARY 2nd, Valparaiso University Career & Internship Fair, Harre Union Ballroom, Valparaiso University, Valparaiso, IN, 10am to 2pm
SATURDAY, FEBRUARY 3rd, Nashville Parent's Summer Camp Adventure Fair, Cool Springs Galleria, Nashville, TN, 10am to 2pm
MONDAY, FEBRUARY 5th, Fox Valley Summer Activities Fair, Wredling Middle School, St. Charles, IL, 5:30pm to 8pm
TUESDAY, FEBRUARY 6th, Summer Recreation Open House, York Community High School, Elmhurst, IL, 6pm to 8pm
WEDNESDAY, FEBRUARY 8th, University of Wisconsin-River Falls Opportunity Fair, UWRF Riverview Ballroom, River Falls, WI, 10am to 1pm
WEDNESDAY, FEBRUARY 7th, Summer Job Fair, Kirby Student Center Main Hallway, University of University – Duluth, Duluth, MN, 10am to 2pm
WEDNESDAY, FEBRUARY 14th, Winona State University Summer Opportunities Fair, Kryzsko Commons, WSU,175 West Mark Street, Winona, MN, 11am to 2:30pm
THURSDAY, FEBRUARY 15th, University of Wisconsin-La Crosse Summer Job Fair, Student Union – The Bluffs Room, La Crosse, WI, 10am-3pm
SATURDAY, FEBRUARY 17th, Indy's Child Camp Fair, Castleton Square Mall, Indianapolis, IN, 11am to 3pm
MONDAY, FEBRUARY 19th – FRIDAY, FEBRUARY 23rd, American Camp Association National Conference, Orlando, FL
TUESDAY, FEBRUARY 20th, WeHaKee Reunion Pizza Party, Anthony's Coal Fired Pizza, Miami, FL, IN, 7pm to 9pm
SATURDAY, FEBRUARY 24th, Minnesota Parent Camp Fair, Como Zoo & Conservatory, St. Paul, MN, 10am to 2pm
SUNDAY, FEBRUARY 25th, WeHaKee Opelika Reunion, TBD, Opelika, AL, 7pm to 9pm
MONDAY, FEBRUARY 26th, Spring Hill University, Student Center Lobby, Mobile, AL, 1am to 1:30pm
TUESDAY, FEBRUARY 27th, Tulane University, Center for University Life, New Orleans, LA, 11:30m to 2pm
WEDNESDAY, FEBRUARY 28th, Loyola University, Danna Center, New Orleans, LA, 11:30m to 1:30pm
THURSDAY, MARCH 1st, Xavier University, University Center, New Orleans, LA, 11am to 1pm
MONDAY, MARCH 5th, University of St. Thomas, Crooker Center, Houston, TX, 12pm to 2:30pm
TUESDAY, MARCH 6th, University of Texas – San Antonio, San Antonio, TX, 10:30am to 2pm
WEDNESDAY, MARCH 7th, St. Mary's University, San Antonio, TX, 11am to 2pm
THURSDAY, MARCH 8th, St. Edward's University, Austin, TX, 10am to 1pm
THURSDAY, MARCH 8th, D181 Summer Camp Expo, Prospect School, 100 N. Prospect Ave., Clarendon Hills, IL, 6pm to 8:30pm
THURSDAY, MARCH 8th, WeHaKee Dallas Reunion, TBD, Dallas, TX
MONDAY, MARCH 12th – THURSDAY, MARCH 15th, WeHaKee Phoenix Reunion/Recruiting Events, TBD
MONDAY, MARCH 19th, STAGE 203 Summer Activities Fair, Kennedy Junior High School, Lisle, IL, 6pm to 8pm
THURSDAY, MARCH 29th, Summer Camps and Part Time Job Fair, Davies Center-Ojibwe Ballroom, University of Wisconsin-Eau Claire, Eau Claire, WI, 10am-1pm
Well, gotta go and get in some miles today. Hope to see you soon!