Visiting The Values Of WeHakee; Justice
JUSTICE: Relationships that recognize the dignity and uniqueness in all God's creatures 
A welcoming and inclusive community is also equitable, meaning each and every girl has a full set
of options and opportunities awaiting them at WeHaKee. The respect and acceptance that is
the hallmark of the WeHaKee culture ensures all are welcome at all times!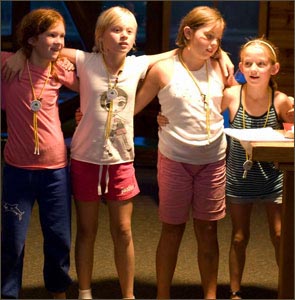 How is justice served at WeHaKee Camp for Girls? Through the culture of positive and respectful relationships that is found at WeHaKee. A camp community that embraces and displays compassion provides an equitable and inclusive, i.e a just environment for all girls.
Helping each girl achieve a sense of belonging once they arrive at Camp WeHaKee is a critical element in empowering each girl to be a contributing member of the camp community. When a girl feels she belongs at WeHaKee, she will be more inclined to meet others, share of herself, try new things and embrace all that is offered to her at camp.  More importantly, she will embrace a sense of justice in helping to ensure others also gain a sense of belonging in the WeHaKee community.
During our Sunday Mass, we acknowledge that not all of our campers are of the Catholic faith.  But to show that they are an equal part of the Camp WeHaKee community, we begin each mass with the Marty Haugen classic, All Are Welcome to embrace as a community that we welcome everyone and see them all as our equals.  The opening lyrics "Let us build a house where love can dwell and all can safely live" accurately describes what we strive for each and every day at WeHaKee!
With girls coming to WeHaKee from a vast array of communities – different geographically, socio-economically, and culturally – creating a just environment where girls accept and include each other equally is critical for a successful camp community to emerge. And the women of WeHaKee excel at this throughout each summer! Justice can be seen in the cabin, in the dining lodge, in the activities, and continuously throughout the camp on a daily basis. All are truly welcome along the shores of Hunter Lake!
Thank you again for following our exploration of the values of WeHaKee.  Have a good week everyone!