Sunday Snippet: WeHaKee Apps Come to Life!
The campers at WeHaKee are blessed with time away from phones, texting, and technology, but that didn't stop them from playing their favorite App games! In yesterday's special event afternoon, all the WeHaKee campers played games like "Angry Birds," "Candy Crush," and even "Snapchat"—all in real life! No iPhone needed!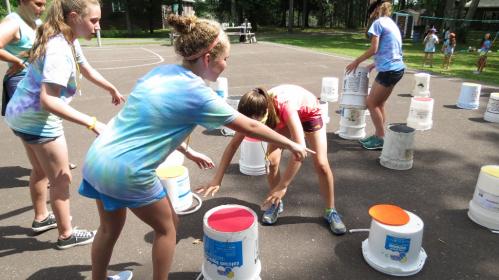 The top of camp was taken over by stacks of boxes, photo booths, and obstacle courses. The singing voices of girls trying to guess their favorite songs the fastest was heard all over camp (modeled after the application "Shazam"). Girls could paint their faces and take an "Instagram photo" or try to guess the close-up photo at the "Snapchat" station. "Fruit Ninja" took the form of soft bats swung at flying water-balloons and a reward of watermelon after all the 'hard work.'
WeHaKee campers will experience a special event like this one 3 times in a session—one in the morning-time, another in the evening, and one in the afternoon. Our program director really tries to think outside the box (though a lot of cardboard does tend to get used)! Upcoming themes for Session 2A include "Space Oddity" (glow-in-dark space simulator anyone?!) and an Independence Day party! So ask your camper what they enjoyed about camp… and don't be surprised if you hear "Temple Run Obstacle Course!" along with canoeing, pottery, and archery… it's all here and it's all fun!