World Views Expand At WeHaKee!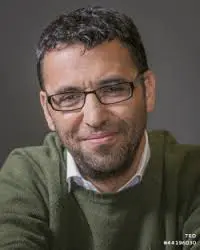 Aziz Abu Sarah, a Palestinian activist offers an unusual approach to peace-keeping in a TED Talk recorded in 2014; For More Tolerance, We Need More … Tourism?  He is not talking about simply snapping pics from the windows of a climate-controlled tour bus, but getting out and touring among the people to see, hear, smell, taste, and feel the culture of the community, country, region they are touring.  In doing so, one can put a literally put a face on a group, a culture.  This connection leads to better understanding between people melting away irrational fears to that lead to hatred and even violence.
Those of us at WeHaKee Camp for Girl could not agree more.  In essence that is precisely what we offer to the girls and staff at our camp.  The diversity at WeHaKee is remarkable – girls attend WeHaKee not only from throughout the United States, but around the world.  Each summer girls can arrive from South America, from Europe, from Asia, from Africa and from the Middle East.  Worlds Apart Coming Together!
This geographic diversity results in a cultural diversity at WeHaKee that is unique and powerful for all of the girls. As they play together, eat together, struggle together and live together, they learn together! They first discover and connect through how much they have in common.  With this connection they then learn how they are different, seeing these differences in respectful ways which lead to even deeper connections.
Through these connections (many wich will last a lifetime!), they not only achieve greater tolerance for other, but they learn to be more welcoming and accepting of those different than themselves. This is a key element of becoming a leader and a contributing member to all of the communities they will live in.
Perhaps we can offer and additional option to Mr. Sarah's suggestion – For More Acceptance, We Need More… Camp!  Thanks everyone and have a great week!