Wednesdays @ WeHaKee: The Thrill of Waterskiing at Camp!
At WeHaKee Camp for Girls, we believe that summer camp is about more than just fun and games – it's an opportunity for girls to develop valuable life skills and create lifelong memories. One of the most exciting and challenging activities we offer is waterskiing, an exhilarating sport that teaches campers about perseverance, determination, and teamwork.
Waterskiing has been a popular summer camp activity for decades, and for good reason. It's an activity that offers a unique combination of physical challenge, adrenaline rush, and team building. For girls who have never skied before, waterskiing can be a thrilling and rewarding experience that teaches them about themselves and their abilities.
At WeHaKee, we believe that waterskiing is a skill that can carry over into adulthood. Here's why:
1. Physical Fitness: Waterskiing is a full-body workout that requires strength, endurance, and balance. As girls learn to ski, they build physical fitness and develop healthy habits that can last a lifetime.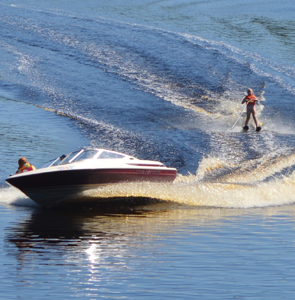 2. Teamwork: Waterskiing is a team sport that requires coordination and communication between the skier and the boat driver. As campers work together to master the sport, they develop important teamwork skills that can be applied to other areas of their lives.
3. Perseverance: Waterskiing can be a challenging sport, especially for beginners. As campers struggle to master the sport, they learn about perseverance and determination, and develop a
growth mindset that can help them overcome challenges in other areas of their lives.
4. Adrenaline Rush: Waterskiing can be a thrilling and exciting experience that provides a rush of adrenaline. As campers push themselves to ski faster and try new tricks, they develop confidence and a sense of adventure that can carry over into other aspects of their lives.
At WeHaKee Camp for Girls, we offer a variety of waterskiing activities for girls of all skill levels. From beginner lessons to advanced slalom skiing, our experienced instructors help campers develop their skiing skills in a safe and supportive environment. Our top-of-the-line equipment and expert boat drivers ensure that campers have a fun and exciting experience on the water.
In addition to waterskiing, we also offer a range of water-related activities, including wakeboarding, paddle boarding, and kayaking. Our goal is to provide campers with a comprehensive understanding of water sports, from the basics of skiing to the intricacies of boat safety.
Whether your daughter is a seasoned skier or a complete beginner, she'll have a blast at WeHaKee Camp for Girls. Our waterskiing program is just one of many fun activities we offer for girls ages 7-17.  From arts and crafts to outdoor adventure, we have something for everyone.
To learn more about our water skiing program and all the other activities we offer, visit our website at wehakeecampforgirls.com/girls/camp-activities. We look forward to welcoming your daughter to WeHaKee Camp for Girls, where she'll create lifelong memories and friendships while learning valuable life skills.  Learn more at WeHaKeeCampforGirls.com or give us a call at 608-787-8304.  Better yet, click HERE to schedule a video conversation with our directors.  We look forward to hearing from you!